NARUSEGAWA NARU
Naru is of course, the first in the series. I did a short write-up previously about her, so check that out for more details.

Just to reiterate slightly, Naru comes with everything you see here. A pseudo steam bath diorama prop, a Tama-chan that fits by means of a small transparent plastic shaft, and a barely-there towel.

Naru's a great figure. the head sculpt is extremely cute and pretty, and looks very much like the character. I'd say it's even better than either waterline efforts. She's got her hair bunned up this time, so that gives her a great range of neck movement.

Her body is from your standard plastic, encased in a short rubbery towel that allows her to sit and kneel with ease. The towel is very flexible and soft, so it doesn't hinder any movement by much. Yes, with some prying you could probably get it off, but don't blame me if you over-stretch or tear the material to fulfill your perverse needs. If you must know Miss Narusegawa is nude under them. No undies, no white paint. But no naughty details either. She's exactly as Akamatsu draws her; the curves are all there, but she's as plain as a Barbie doll.

She's got a pretty decent range of articulation: ball neck, and cuts at the shoulders, biceps, forearms, bust, hips, thighs and ankle joints. They all work well together in the standard Kaiyodo style of making figure posing look good. Even the V-crotch joint is engineered so she doesn't look indecent when she sits, a flaw that too many other figures have when this joint is utilized. Check the photo section for more pics on the various poses she can emulate. Overall, its a good piece of engineering, but ball shoulders and wrists would have helped a lot.

The base is pretty fun too. It's even sturdy enough to support her should you decide to make her stand on water...an appropriate accessory, but it'll only go so far.

Naru's best feature is probably her interchangeability. She'll swap parts with Kitsune, Motoko and Mutsumi, as well as her own counterpart from the Waterline series. And since all 4 of them are virtually the same build and they all bath at Hina's springs, you could technically buy 2 more Naru's for a bathing diorama (if you're bloody rich, or Hina mad, that is).

All those characters can do a lot of swapping of faces and hair pieces as well (with only some incompatibility in hole line-ups, eg, she can't use Motoko's hair), so you can a lot of extra value out of mixing and matching for some really fun looks.
So is she worth the high Japanese price tag? Amazingly, almost! I would have gladly paid 1500-2000yen per Hina figure. One thing to note, though, and this applies to all the figures, they will be much more enjoyable if you get more than one. In fact, I'd recommend that if you're planning to get these, a full set of Waterline 2 is a MUST. It just expands what to can do with this series to an even greater level, especially for the Hina fan.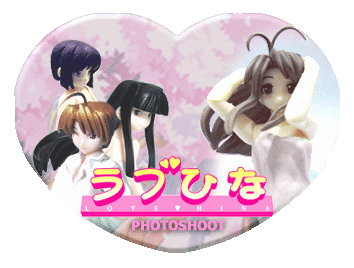 For a LOT more pictures, check out the photoshoot!
Warning, adult content. May offend those with extreme moralist viewpoints.
24 / 04/ 2002