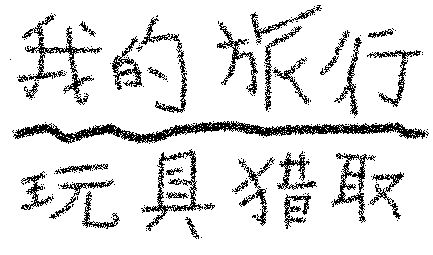 Here's some of my gashapon loot. The stuff on top of the box are actually from the USA, but they're gashapon-ish, so they go in this section too. What's gashapon? It's a term used to label toy stuff that comes out of capsule/gumball machines in Japan, or candy premium toys, or arcade prizes. Basically the stuff not found at retail (And frankly some of the coolest stuff of all!).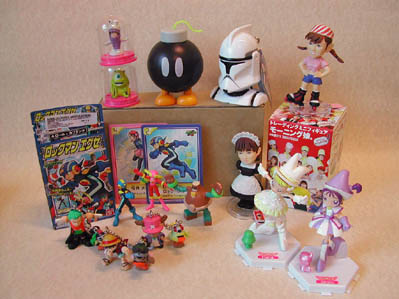 The Super Mario Bombomb came from a candy store in Seattle, and the Clonetrooper helmet's a lollypop holder. I snagged that together with about a ton of star wars from from Toys R Us.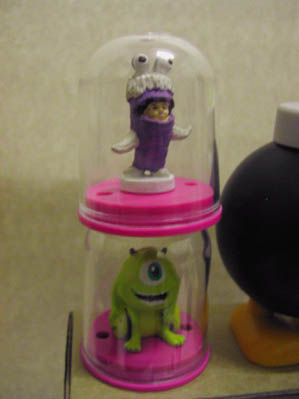 These were from Canada...about Can$1, I think, from a capsule vending machine. I think they're repackaged premiums from the Japanese Tomy version. Tiny tiny little buggers inside, but it's always nice to get another version of Boo.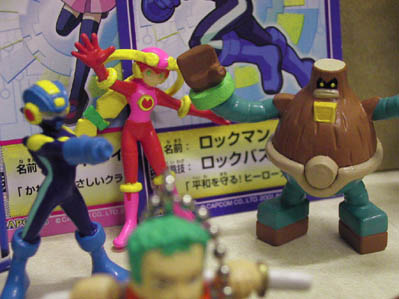 Rockman.exe candy premium figures I got from a Chinese supermart in Canada. I actually saw these the last time I was in Hong Kong, but missed getting them coz the store didn't open and I was rushing to the airport (Hmm, sounds familiar), so it's nice to have found them again. I actually bought the full set; the rest of it's with my brother. Woodman rocks supreme.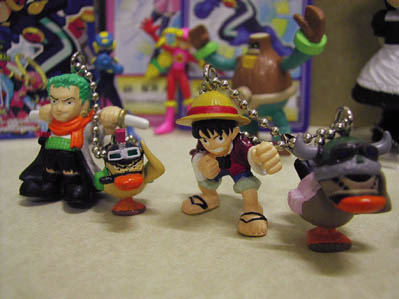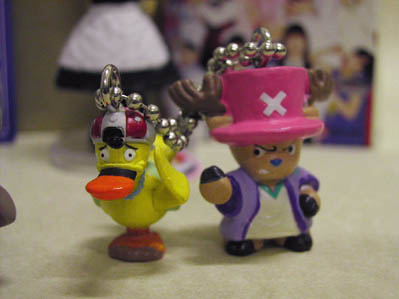 One Piece dual keychains. Each character comes with a warrior duck from the Alabaster arc of the story (Confused?? Go get some manga/anime, foo'!). I got these from a capsule machine at the Toys R Us at Ocean Terminal, HK. Later I found out dealers were selling full sets for slightly more per figure. Never mind, these will be going to a friend anyway. there's too much One Piece stuff for me to get everything.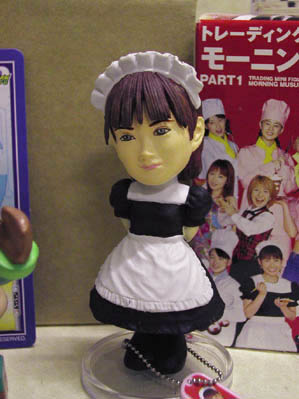 Morning Musume figures. They're a freaky band concept (13 girls singing strangely arranged songs in wild extravagant outfits...kinda like an all-girl Japanese Mickey Mouse Club high on sugar) but I like them. They've got a unique appeal to them. I've known about these figures by Collection Cubics for some time now, since local stores have brought in full sets. In HK I finally got to pick the 2 figures I liked at Ocean Terminal TRU (HK$40ea). Yes, they were random, but someone had come along and ripped quite a few of the boxes up looking for stuff, so I just sifted through what was already damaged. I found what I wanted, lucky lucky. True, stalls in Wanchai were selling them cheaper, but you couldn't pick and choose. Yaay for big, ignorant department stores! :-)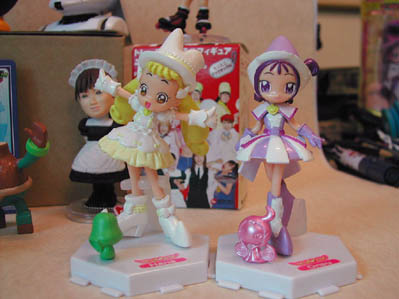 Got these at the same Toys R Us: Magical Witches Doremi figures (HK$20). I don't follow the show (er, what show? Stupid local TV only airs old crap like Dragonball Z) but since I picked up the first set in Hong Kong months ago I'm always happy to add to my collection. This latest one has them in new outfits (a la Sailormoon S, perhaps?) as well as an older Hanachan (yellow haired one), previously a baby.
The best stuff's last! All Capcom merchandise!