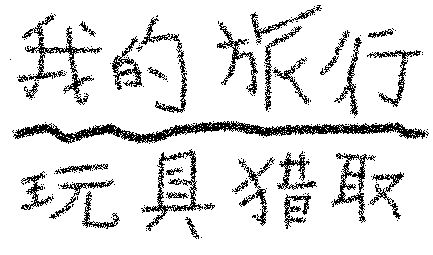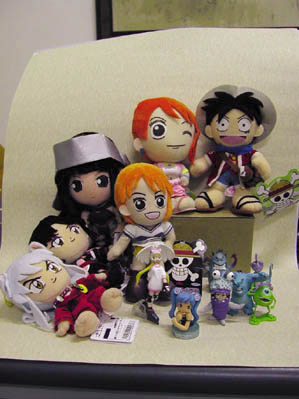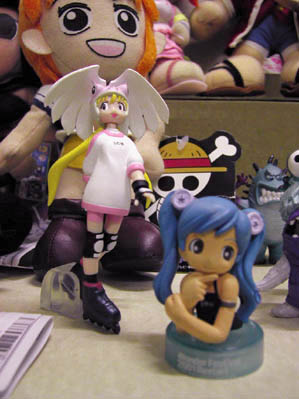 More plushies! I got the ONE PIECE! ones off ebay, and had em shipped to my sis so I could save on international shipping. Cheap I am, but I save a lot that way. Inu Yasha stuff courtesy of my buddy Chris. The Love Hina Motoko in RPG outfit plush I ordered from Wizzywig. They charged me $7 shipping to California for one light plush. ..The-hell??!
I got the rest of what's in the picture from Hong Kong. I flew Cathay Pacific, and they give you free stopovers in Hong Kong to promote tourism there or something. So that's 2½ days of free room and stop for me.
The gashapon girl is from the anime Alien 9 (HK$30)...weird rollerblading girls with wings and amphibious animals springing out of their noggins...can't wait to see this show. Paid a little more to get this loose figure coz I didn't want the set. The blue haired girl bust (HK$20) is some Wonderfest Japan exclusive bottletop figure. Seems like they overstocked them in Hong Kong, coz I saw them at quite a few stalls there.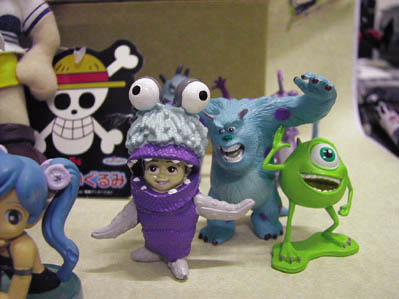 On the streets of Hong Kong you'll find roadside stalls selling everything from clothes to funky accessories to bootleg toys. It's there that I got this set of 5 Monsters Inc figurines (HK$30), including the absolutely best Boo figure I've seen yet. I actually saw this set in Vancouver, Canada, but of course, at much higher prices, so I decide to wait and see if HK had any. Interestingly, I later found a local dealer selling just Boo alone for Sing$12. har har!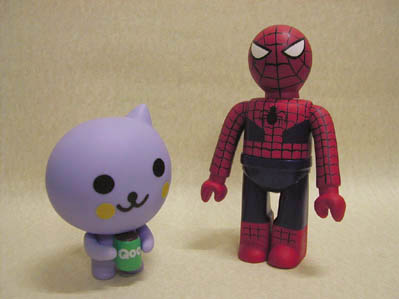 Found these really groovy looking Qoo figure (HK$5) and giant Spidey Lego-freek thing (HK$20) too. Probably rotocast bootlegs, but they were cheap, and very nicely done. Spidey looks like it might be an up-size of the one in the Marvel Kubricks line. Whatever, its bigger and cheaper. I like it.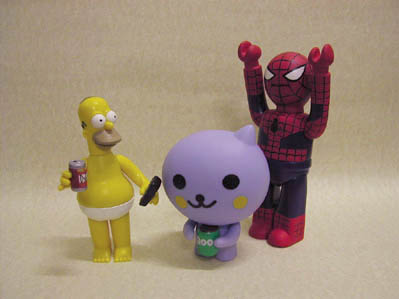 Here's their scale compared with the 5" Simpson figures.
Even more gashapon!