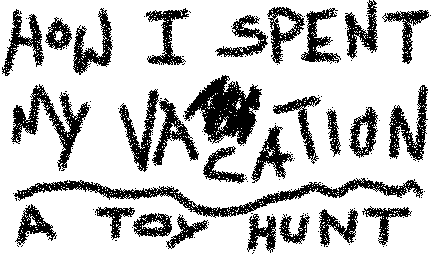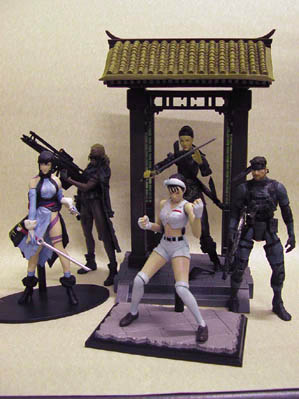 Right, now here's my chick collection. 5 lovely ladi...wait a minute! That's no chick! That's just a mullet! Damn you Solid Snake!
Jun Kazama from Epoch's Tekken series, and Shiki from their Samurai Spirits line. I found em both dirt cheap at a Software ETC in Salt Lake City, Utah. Jun was like US$4, and Shiki was US$1.50. Some kind of crazee "50% off our clearance prices" sale. And here I was ready to pay Sing$20 for a Shiki locally, but no one sold her individually. That's life for you, in my favour. :-)
I got the MGS Fortune figure at the KB in Lloyd Center, Portland OR. And I was cheated! There was a big red sign that said "Clearance on McFarlane toys! $5.99!" and Fortune was in the lot. I didn't check when I paid up and later realised she rang up at US$9.99. Ah well, she's the same price back home, so it's not that big a deal.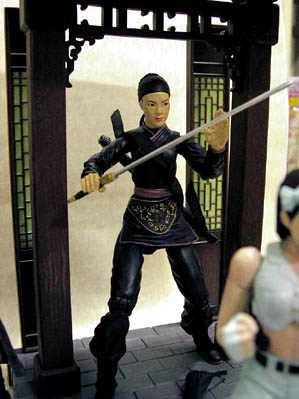 More savings from Software ETC anyway. Along with the Epoch figures I also got the Zhang Ziyi figure from Crouching Tiger Hidden Dragon. Thing is, I got one in Canada for Can$20 (Damn Canada and their 15% gst!) that has a removeable mask, but no doorway backdrop. Here at Software they had the masked version WITH doorway for US$7. So I got another one!! sigh...I'm keeping the mask off version and the doorway. Hopefully someone will give me something back for the masked version that I'm selling loose. I hate variants.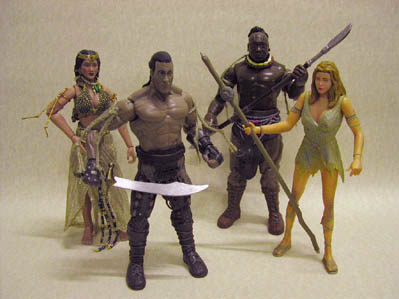 And here's my Barbarian collection! The Scorpion King movie wasn't that enthralling (except for Kelly Hu, oh yeah!) but I thought the figures made excellent barbarian material. And having a figure of Michael Clarke Duncan's always a good thing. The other chick's from some Planet of the Apes series that Toys R Us had for US$5. What the heck.
Speaking of Heck.


Ye gods, that is the world's ugliest woman.

It's a travesty that they did this to a figure that's supposedly Kelly Hu. Proof that Realscan doesn't always work. But I'm sick; I'm betting that under that disgusting mess is a sculpt that can be saved with a repaint. Time will tell if I'm right. Give me another week or so. I have things to do, you know.